Shop for Organic Herbal Teas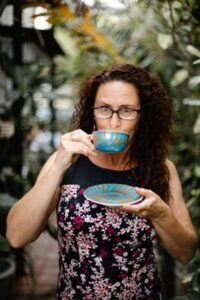 For the last 5 years I have been blending certified organic herbal teas & selling via markets, expos & a couple of cafes. I now have them available for purchase online….so you can order anytime & have them delivered to your door!!
Most herbs are purchased from within Australia, otherwise country of origin.
Use one teaspoon per cup….plus one for the pot if using a tea pot!
Steep 3-5min for leaf tea….longer for those containing root material.
Please CHOOSE POSTAGE FIRST by choosing from the following:

Nourishing Women's Tea
Withania, Nettle, Damiana, Rose – nutritive with iron & other essential minerals, soothes adrenals & nervous system….with beautiful rose petals for the heart.   
Tummy Tea
Dreamtime Tea
Passionflower, Lemon Balm, Valerian & Lavender – will relax your nervous system to aid sleep….the lavender is heavenly!
Protect-Me Tea
Peppermint, Thyme, Echinacea & Ginger – supports immune system & digestion….this is lovely hot or iced!
Balance-Me Tea
Licorice, Withania, Rhodiola, Siberian Ginseng – supports adrenals, nervous system….plus liver! If you love licorice you'll love this!
Bliss Tea
Passionflower, Withania, Siberian Ginseng & Lemon Balm – supports nervous system & adrenals, plus the immune system.
Mum-2-Be Tea
Raspberry Leaf, Withania, Nettle – Do NOT drink till after 20weeks into pregnancy as tones the uterus. As this is a mix, it can be started earlier than Raspberry Leaf alone. High in iron & other nutrients, supports nervous system. 
Raspberry Leaf Tea
NOT to drunk until after 25weeks into pregnancy, as aids toning of uterus. Build up to 4-6 cups tea day to aid delivery of bub. Great post partum too to aid toning uterus. 
Breastfeeding Tea
25g Taster Sample Packs 
If you'd like to try a variety of herbal teas…..why not choose a Taster Sample Pack for $18??!!
With 5 combinations I'm sure you'll find one to suit your taste buds  🙂