Cauliflower Turmeric Steaks….
May 23, 2017
Turmeric is a great spice to have in your kitchen….it protects the liver, boosts the immune system & even  reduces inflammation….particularly in muscles damaged post-exercise.
Here's an easy way to include it in your daily diet….especially during the Activate NT program where you're extending yourself a little more with exercise!!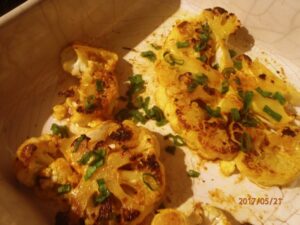 Ingredients:
x1 large cauliflower
1/4C extra virgin olive oil plus extra for frying)
1 Tbsp Organic Turmeric powder
Black Pepper
Thinly sliced fried red chilli & spring onions
Method:
Cut cauliflower into 4-5 1.5cm thick slices.
Cook cauliflower slices in olive oil for 2-3mins till golden brown.
Transfer to lined baking tray.
Whisk olive oil, turmeric & some cracked black pepper until well combined. Brush over steaks.
Roast cauliflower in the moderate oven for 12-15mins or until tender & crisp.
Serve as vegetarian main or as a side dish.
by
by
You May Also Like
July 8, 2019
March 24, 2018
March 7, 2021