Easy Delish Bean & Greens Dip…great for Lunchboxes!!
January 21, 2018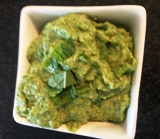 So it's that time again….getting ideas for back to school & work time. We can get a little bored with the same day to day flavours – well this is so nice to spread onto a lovely sourdough or chia/wholemeal wrap, then add your extras…or dip with veggie sticks!
Packed with magnesium, calcium, folate, potassium, iron & protein – it's a winner!
Ingredients:
60g spinach & rocket leaves
400g can Cannellini beans, drained
2 spring onions, chopped
2Tbsp mint leaves
1/4C extra virgin olive oil
1Tbsp lemon juice
1tsp lemon zest
Method:
Simply throw all ingredients into a food processor & whiz up till smooth & creamy. Season with salt & pepper.
Easy recipe adapted from Woolworths "Fresh" magazine issue 136.
by
by
You May Also Like
November 16, 2020
May 24, 2020
May 27, 2020