SPIRITember……coming soon!
July 22, 2017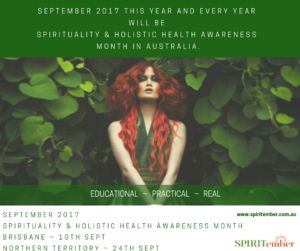 SPIRITember is going to be an amazing celebration for the month of September all around Australia, this year and every year!
"September is Spirituality & Holistic Health Awareness Month."  Educational/Practical/Real
Yes you read that correctly! Let's do it!
The time is right and the time is now to bring all things spiritual into the spotlight.
AIM: Raise awareness and acceptance within the general public of spirituality and holistic health through providing events/celebrations around Australia showcasing professional and ethical practitioners during the month of September.
Awareness month starts 1st September 2017 with events/celebrations on consecutive weekends in September. Independent events listed on the website and SPIRITember events.
Northern Territory is on 24th September (Sunday) at Allora Gardens 10am until 5pm.
Goals:
To provide education and information through real life examples of how spirituality and holistic health can be integrated into everyday life.
To showcase professional practitioners in their field and provide educational presentation/s perspective and workshops and trade displays.
Our Mission:
To raise the awareness and acceptance of spirituality and holistic health and it's concepts through education events\Celebrations\workshops\speakers in a real and everyday kind of way.
Love to see YOU there!!
by
by
You May Also Like
March 7, 2021
February 1, 2021
August 27, 2020