SPIRITember is HERE!!!
August 27, 2017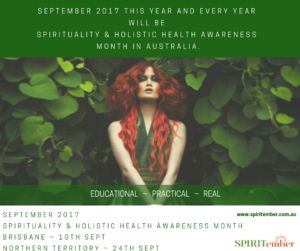 SPIRITember is going to be an amazing celebration for the month of September all around Australia, this year and every year!
"September is Spirituality & Holistic Health Awareness Month."  Educational/Practical/Real
Yes you read that correctly! Let's do it!
The time is right and the time is now to bring all things spiritual into the spotlight.
AIM: Raise awareness and acceptance within the general public of spirituality and holistic health through providing events/celebrations around Australia showcasing professional and ethical practitioners during the month of September.
Northern Territory is on 24th September (Sunday) at Allora Gardens 10am until 5pm.
We've had a great response so far with >100 tickets booked…..you can book your FREE ticket HERE if you wish!!
by
by
You May Also Like
July 8, 2019
March 24, 2018
February 1, 2021